CRYOTHERAPY
Our​ ​Whole Body Cryotherapy chambers​ are cooled​​ up ​to​ ​-130°C (-220°F).​ ​Many​ ​athletes​ ​stop​ ​in​ ​for​ ​improved​ ​recovery​ ​post​ ​game or workout.​ ​Step​ ​in​ ​for​ ​2​ ​-​ ​3 minutes​ ​to​ ​feel​ ​a​ ​world​ ​of​ ​difference.
What is CRYOTHERAPY?
Whole Body Cryotherapy uses extreme chill in order to stimulate multiple physical and mental health benefits. It is proven to boost energy, reduce inflammation, relieve joint pain, speed up muscle recovery, restore collagen, and increase the metabolism within minutes.
Cryotherapy has been used to treat chronic conditions such as arthritis and pain, but has also become an effective, mainstream treatment for energy (pre workout), muscle recovery (post workout), and even stress. Because of these benefits, it has become a popular treatment for professional athletes, marathon runners.
Benefits:
Decreased joint pain
Speed up muscle recovery
Reduced inflammation
Restored collagen
Increased metabolism
Boosted energy
We offer two types of Whole Body Cryotherapy:
Nitrogen Whole Body Cryotherapy uses nitrogen-cooled air to expose the body to sub-zero temperatures of up to -220°F (choice of -160°F, -180°F, or -220°F). Available at Clean Market Midtown East.
Electric Whole Body Cryotherapy uses electricity to power the cryotherapy chamber, which maintains at a cool -190°F. Available at Clean Market FiDi at Brookfield Place.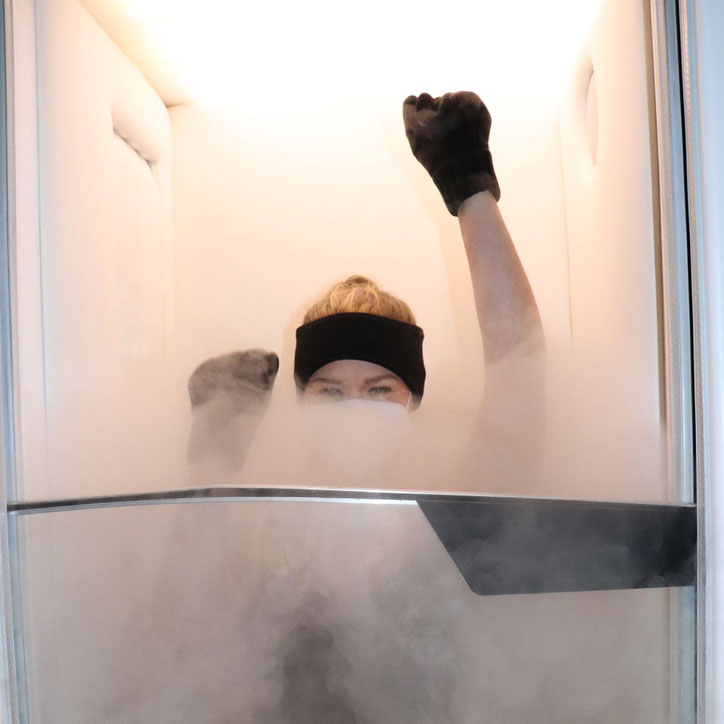 How it Works
For safety in the cryotherapy chamber, we'll provide necessary headwear, footwear, mask, and gloves to protect extremities.
We recommend wearing comfortable shorts and tank tops. Sports bras for women or shirtless for men recommended for maximum skin exposure. Didn't pack ahead? We can provide these for you!
Choose from a selection of music or podcasts to listen to while you're in the Cryotherapy chamber–or meditate in silence.
A Clean Market team member will supervise while you're in the Cryotherapy chamber at all times–you are not required to stay in the chamber for the full duration and can exit at any time.
Pricing
SINGLE SESSIONS
Nitrogen Whole Body Cryotherapy Member $50 | Standard $75
Electric Whole Body Cryotherapy Member $35 | Standard $50
UNLIMITED MEMBERSHIPS
Unlimited Cryotherapy $799