CLEAN MARKET'S GUIDE TO FIDI + BATTERY PARK CITY 
Photo via Clean Market
Fuel Up: The Elk at Clean Market 
Gluten Free + Vegan friendly
Hours: Monday - Sunday 11 AM – 6 PM
The Elk at Clean Market serves up Parlor coffee to meet your latte, daily drip or speciality drink needs. It also offers an assortment of smoothies, juices and plenty of gluten-free and vegan pastries for a morning power breakfast. Grab a bite to go or sip and shop, while exploring Clean Market's wellness offerings or enjoying one of our recovery or wellness NutriDrip IV Drips.  
Shuttershock
Set Your Sight: Breathtaking Views of the Hudson at the Esplanade 
Take a break from Battery Park City's cavernous towers and head towards the Hudson via a walk on the Esplanade. Open since 1986, the Esplanade was designed by architecture firm Hanna/Olin (who are also responsible for Bryant Park) and is a thoughtfully designed walkway that stretches approximately 1.2 miles along the entire length of Battery Park City. The walkway exudes New York's bustling energy, but the amazing views and numerous benches remind visitors to take pause and appreciate the view. Famous landmarks, such as the Statue of Liberty and Ellis Island, can be spotted across the water.
Image Courtesy of Black Seed Bagels
Replenish: Grab a Bite at Black Seed Bagels
Hours: Monday - Friday 8AM - 2PM |  Saturday + Sunday 9AM - 3PM
Gluten Free and Vegan-Friendly
Black Seed holds its ground against the toughest of New York bagel critics.Their Hudson Eats location is our go-to breakfast spot (second the The Elk at Clean Market). We're hooked on their quality ingredients, including cage free eggs, gluten free and vegan options. Opt for one of their classic bagel sandwiches, build your own or grab a dozen bagels to go.
Image Courtesy of The Class Co.
Transcend Through Movement: The Class by Taryn Toomey
Live stream here! (In-person classes suspended for now)
New to The Class? Prepare to be transported through breath and movement. Each class combines a cathartic balance of movement, mindfulness and effort (you will sweat!) that leaves you feeling cleansed and rejuvenated in the best way possible. Until in-person classes resume at their Tribeca Studio, you can still experience the energizing workout via live streaming. Start with the 14-day free trial and feel the transformation take place.
Image Courtesy of Magic Mix Juicery
Refuel: Pop Into Magic Mix Juicery
Gluten Free + Vegan-Friendly
Hours: Monday - Friday  9:30AM - 4PM | Saturday 9AM - 3PM | Sunday CLOSED
Magic Mix Juicery is a hidden gem in the busy Financial District. Their juice cleanses have been rated by Goop as some of the best in the city, and their grab and go lunch and snack options are as delicious as they are clean and nutrient dense. Grab a juice or smoothie to replenish on the go or opt for one of their hearty lunch options like the Corn Pesto Bowl or the Roast Chickpea Caesar Salad. If you're traveling in and out of New York, definitely stock up on their indulgent yet guilt-free snacks, like the Bunny Balls or Raw Cacao PB Cups, for your in-flight enjoyment.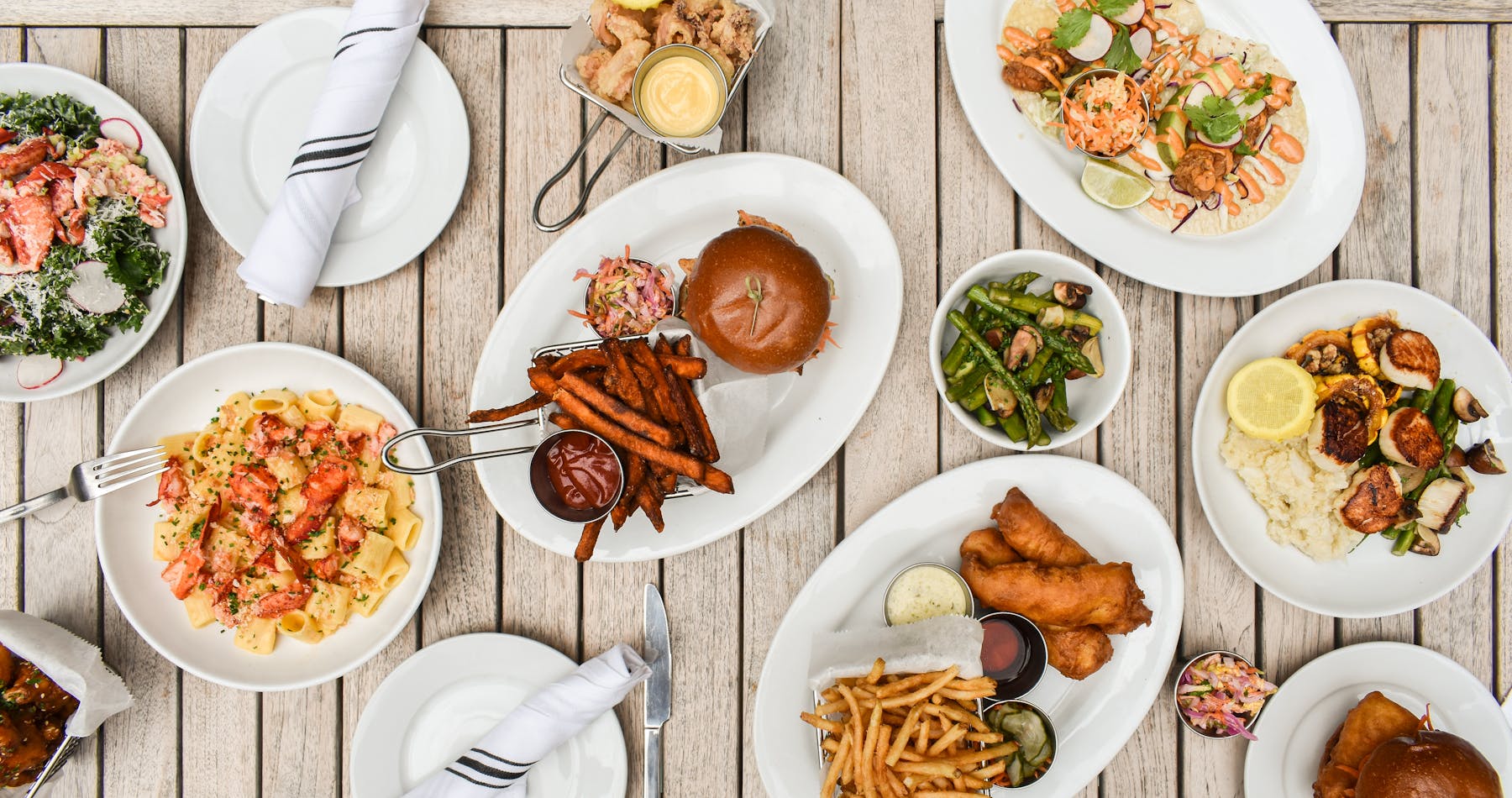 Image Courtesy of Seamore's
Fish Your Wish: Sustainable Seafood at Seamore's
Gluten Free + Vegan-Friendly
Hours: Open Daily 12PM - 9PM
Seamore's keeps it fresh and sustainable 100% of the time, which means you can trust that what you eat is doing better for your health and the planet. Their menu offers raw bar and poke as well as cooked options like the blackened shrimp nachos or their catch of the day, prepped to your taste. Not a fish eater? Not a problem. Seamore's serves burgers, salads, plenty of apps and craft cocktails to satisfy any palate and dietary preference. We recommend Seamore's for big groups, after work drinks + snacks or a fresh and healthy lunch.
Image Courtesy of Blue Ribbon Sushi Bar
Keep It Fresh: at Blue Ribbon Sushi Bar
Hours: Monday - Friday 11:30AM-7:00PM
Gluten-Free
Blue Ribbon Sushi is a best-in-class New York sushi establishment. Snag a seat at the sushi bar for a quick sushi or bento bowl lunch, plan an omakase evening out with coworkers or a date or opt for an early evening snack and drink.The fish is always melt-in-your-mouth fresh and perfectly prepared. Sushi lovers will not be disappointed.
Image Courtesy of Eataly
Ciao Down: at Eataly Downtown
Hours: Open Daily 8AM-9PM
Gluten-Free + Vegan Friendly
We would be remiss not to include this market extraordinaire on our list. Eataly is your one-way ticket to an open-air Italian market, without the costly airfare. Shop for meats, cheeses, freshly made pastas, traditional Italian sweets and more or grab an aperol spritz and a bite at one of the restaurants or counters within Eataly. You can also plan ahead and book a cooking class catered to your delicacy of choice (pasta, pizza, wine, etc.) or stock your pantry with their assortment of dry goods. Whatever your approach, we guarantee you will leave completely full and fully satisfied.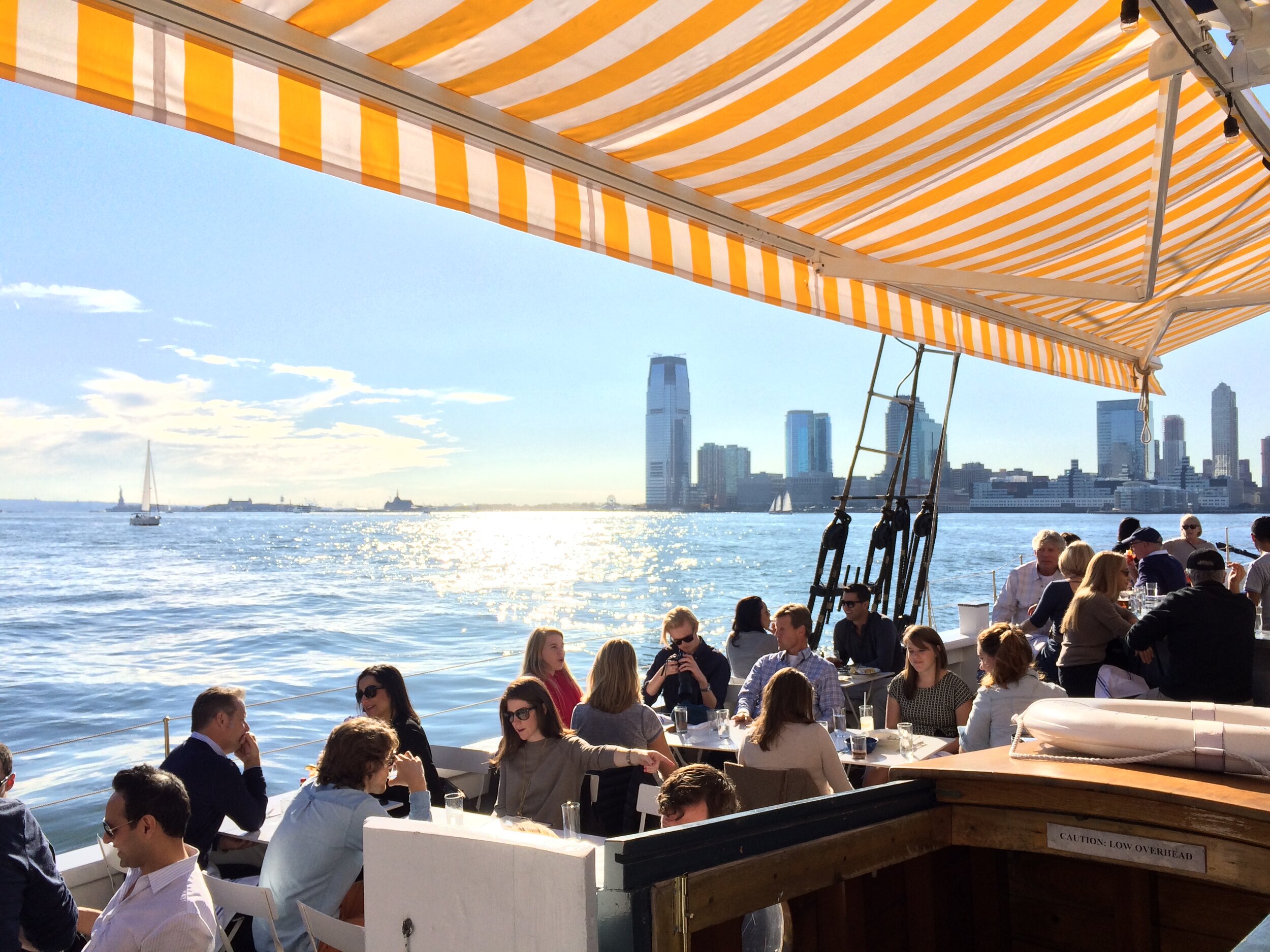 Image Courtesy of Crew NY
All Aboard: Unwind at Grand Banks
Hours: Monday - Friday 11AM - 12:30AM | Saturday - Sunday Brunch 10AM - 2PM (continuous service until 12:30 AM)
Located on a large wooden schooner that's docked at the southwest edge of Hudson River Park's Pier 25 in Tribeca, Grand Banks is a seasonal must-visit. The second you step aboard, you will feel transported from the city to the open seas (or your favorite seaside town!). Order a dozen wild-caught and sustainably harvested oysters, a nautical cocktail or a refreshing summertime beer or wine, and get comfortable— you're going to want to stay a while. If you're enjoying the vibe well past sunset (we assume you will be), order some of their ingredient-driven seasonal plates and make a night of it. Warning: it can get a little rocky, so you might skip this adventure or take Dramamine prior if you are prone to getting sea sick. 
Image Courtesy of Tiny's Restaurant
Cozy, Comfortable and Cool: Dine In at Tiny's (& the bar upstairs)
Hours: Monday - Friday Open for Lunch + Dinner | Sunday: CLOSED
Tiny's Restaurant and its accompanying Bar Upstairs are the epitome of a longstanding classic, cool New York establishment. The pink NYC Townhouse exterior adds to the appeal and charm of this new American restaurant. The interior, with it's rustic brick walls, working fireplace and leather banquets, exudes an inviting and cozy backdrop to spend hours catching-up with friends over fresh, comfort food.
Image Courtesy of Tribeca Citizen
Look Up: The Winter Garden at Brookfield Place 
Between shopping and dining around Brookfield Place, remember to stop and look up in this soaring glass atrium within Brookfield Place. Sustainably rebuilt in 2002, the Winter Garden boasts 2,000 panes of glass and 60,000 square feet of marble stairs and flooring, not to mention a dozen palm trees. Capacious and beautiful, the atrium is a downtown cultural hub and host to numerous concerts, symphonies and operas. Plan your visit around a holiday event in the Winter Garden or take a pause as you pass through for some quality people watching. This beautiful structure is a reminder of New York's wonder at every turn.